Class leading caravans with exceptional cost:value.
Elddis is the leading UK manufacturer of recreational touring vehicles with a rich heritage spanning six decades and multiple award wins. This scale has equipped them with advanced design and manufacturing expertise that produces reliable caravans with all the innovation and configuration variety you'd expect from such a wide range. We are proud to be the only factory approved and authorised distributor and retailer in New Zealand.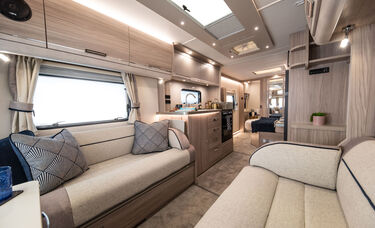 Why choose Elddis?
With a history going back over 50 years, Elddis has learned what makes a good caravan. They offer a wide range of floorplan layouts and features to suit everyone. No wonder they're highly sought after both here and abroad. They're also built using fully-bonded construction that offers industry-leading integrity and rigidity backed by 5-year warranties. Yet they're lightweight which improves fuel consumption, and dry with waterproof joints and 95% fewer exterior screws for an impenetrable water barrier. And they're NZ-ready and fully specified to drive away and use them however you need to.
On the yard
New and pre-owned motorhomes and caravans ready to drive away today.
Over 60 years connecting our customers with their dream lifestyles.