For the traveller that likes the latest and greatest
Originally a furniture maker, Mobilvetta's craftsmanship makes them the first motorhome manufacturer to be nominated for the prestigious ADI Design Index, putting them in the same class as other nominees such as Ferrari, Alfa Romeo, Ducati, Maserati and Vespa. Get award winning Italian design with all the New Zealand safety, functionality and self-contained freedom camping specification needed, like a kerbside door and integrated living space.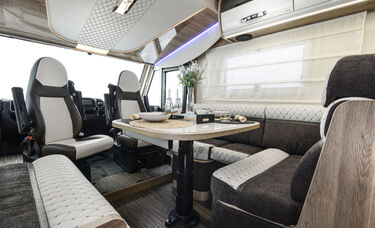 Why choose Mobilvetta?
Externally, Mobilvettas are characterised by their sporty looks and aerodynamic shape. Inside, nautical inspiration, a fluid layout, and HUGE storage make them widely appealing to many. People also like the swivel cab seats that seamlessly integrate to create more living space. Plus, they come with heaps of features not standard in other similar motorhomes like it.
Over 60 years connecting our customers with their dream lifestyles.